INSIDE THE BOTTLE
What's the deal with our personal care products not being safe? Well unfortunately there is a lack of regulation within the beauty industry as a whole.
BeautyCounter goes beyond the industry standard to formulate safer products without compromising on performance. Check out the info graphic below created by BeautyCounter to take you inside the bottle to see every detail of how these safe products are made.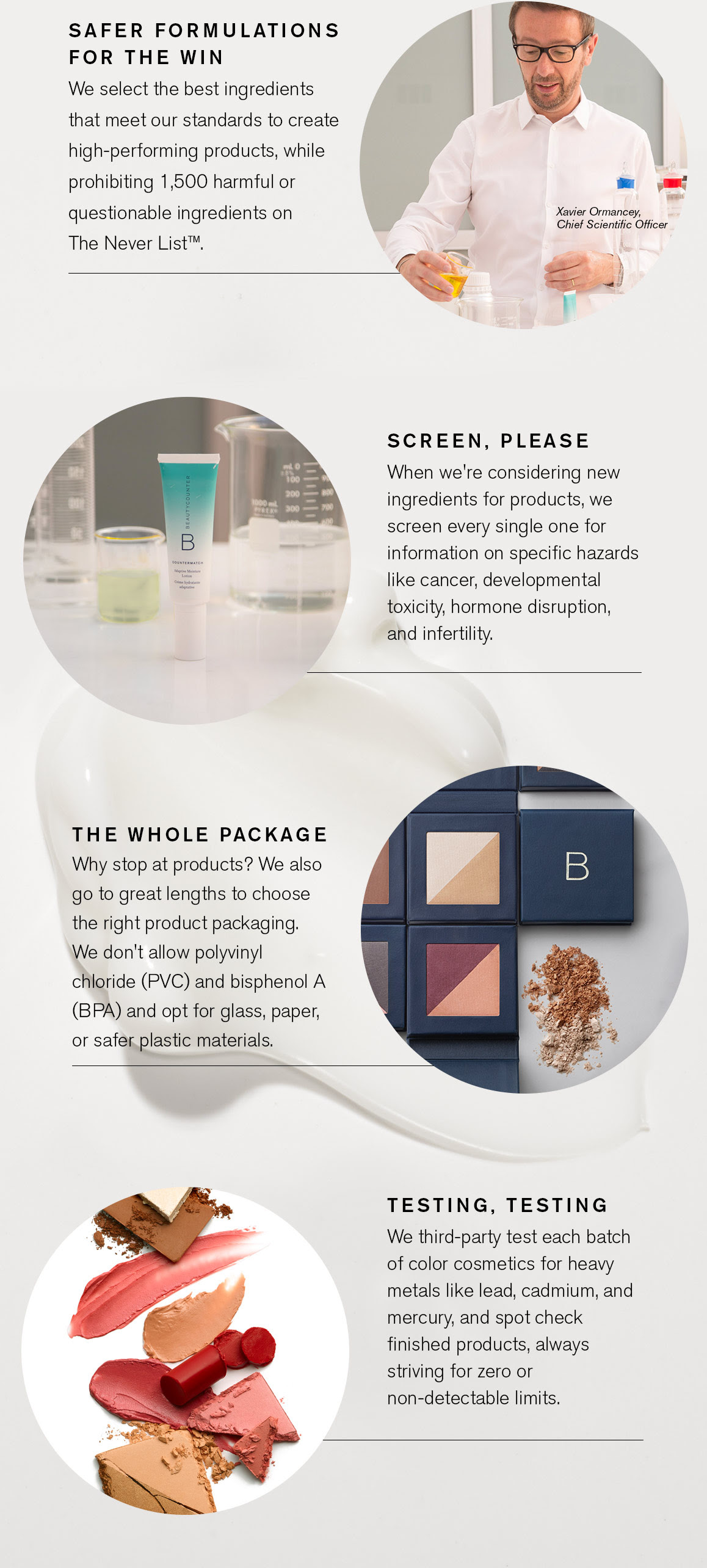 Why I joined the Mission – Gregg Renfrew says it best!
"So many things we do in our daily lives involve compromise. We work hard to take care of our families, but are often left feeling unfulfilled in our careers. We buy beauty and skin care products to present our best selves to the world, but compromise our health and safety. It's rare that an opportunity comes along to build successful businesses while also making positive change in the world. Becoming a Beautycounter Consultant is that opportunity. Consultants sell safer products created with the rigorous standards of our Never List and Ingredient Selection Process. They educate and empower consumers with knowledge to make better purchasing decisions, acting as leaders in the movement for safer, better beauty. I invite you to flip through this book, get to know our company, and read about the success many others like you have found at Beautycounter. The work we are doing is important, and the opportunity for you to make significant additional income is real. Join our movement"
Spoken from Gregg Renfrew Mother of three, Founder and CEO of BeautyCounter and all around Badass Women I am proud to be working with. 
Download the Opportunity Brochure HERE 

NOTE: You will need a drop box account to down load this. It's a safe and easy way to share PDF files. It only takes a minute to create an account.
WHAT ARE MY FAVORITE PRODUCTS YOU ASK?
From time to time I will share my experience as a consultant, talk about my favorite products and share upcoming promos. You can find these posts in Nourished on a Budget Section or Nourished Resources Section… Or by typing BeautyCounter in the SEARCH MENU.